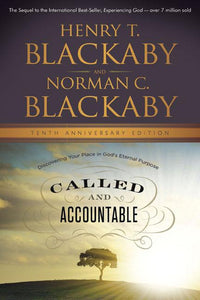 Called and Accountable: Discovering Your Place in God's Eternal Purpose (10th Anniversary Edition) (Paperback)
Called and Accountable: Discovering Your Place in God's Eternal Purpose (10th Anniversary Edition) (Paperback)
Authors: Henry T. Blackaby & Norman Blackaby
Publisher: New Hope Publishing
ISBN (10): 1596693525
ISBN (13): 978-1-59669-352-4
BMI Stock Number: BMI0050
Just as He did throughout the Bible, God is still calling His people, at this very hour, to accomplish His eternal purposes in redeeming the lost.
* Six-week workbook study
- What is a call?
- Who are the called?
- How am I called?
- When am I called
- How do I live out the call?
---