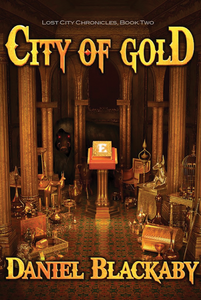 City of Gold (Lost City Chronicles, Book 2) (Paperback)
City of Gold (Lost City Chronicles, Book 2) (Paperback)
Author: Daniel Blackaby
Publisher: Elevate
ISBN (10):193749828X
ISBN (13): 978-1937498283
BMI Stock Number: BMI0280
The war has begun. A millennium of growing tension between Atlantis and El Dorado has erupted into violent conflict.
Amidst a world in chaos, Cody Clemenson must piece together his own shattered existence. His best friend, Jade, the only constant in his life, has been ripped away and it's entirely his fault.
Getting her back will not be easy. The dreaded Golden King's ultimatum is clear: seven days. When the light vanishes on the final day, Jade will be rescued or dead. Cody must band together with a rag-tag company and venture across the treacherous wastelands battling monsters, soldiers, and the brutal elements in order to infiltrate El Dorado and confront the powerful King.
But Cody will soon discover that in the Golden City things are never as they seem; his closest friends may not be his allies and his enemies may not be his most dangerous threat.
Seven days.
The clock is ticking...

Author

Grandson of Experiencing God author, Henry Blackaby, and son of speaker and author, Richard Blackaby, Daniel Blackaby is the emerging voice in the Blackaby publishing tradition. Daniel's greatest passion is exploring the magical world of language. As a child, when not crafting elaborate fantasy tales, he could be found with his nose buried in a great book. Now, with a young writing career that includes successful non-fiction: When Worlds Collide (B&H Pub.), he returns to his first love of imaginative fiction with his debut trilogy: The Lost City Chronicles (Russell Media). He currently resides in Atlanta, Georgia with his lovely wife, Sarah.
---