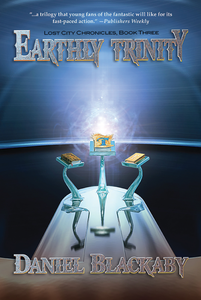 Earthly Trinity (Lost City Chronicles, Book 3) (Paperback)
Earthly Trinity (Lost City Chronicles, Book 2) (Paperback)
Author: Daniel Blackaby
Publisher: Elevate
ISBN (10): 1937498565
ISBN (13): 978-1937498566
BMI Stock Number: BMI0285
The End Has Come.

The armies of El Dorado approach like an unstoppable flood. Outnumbered twenty-five to one, Atlantis hastens to ready its feeble defenses. Meanwhile, the mysterious society known as CROSS, long hidden in the shadows, prepares to make its move, wielding an ancient power that could decide the outcome of the war.

Racing against time, Cody wrestles with his responsibilities as the Book Keeper, his imminent duel against the Golden King, and worst of all, the haunting secret he has kept from Jade: the revelation that for the Prophecy to be fulfilled she must die.

As the death toll rises and betrayals come from the most unexpected places, Cody and Jade must face their greatest fears to fulfill their destiny, no matter the cost, and save Under-Earth.

Author

Grandson of Experiencing God author, Henry Blackaby, and son of speaker and author, Richard Blackaby, Daniel Blackaby is the emerging voice in the Blackaby publishing tradition. Daniel's greatest passion is exploring the magical world of language. As a child, when not crafting elaborate fantasy tales, he could be found with his nose buried in a great book. Now, with a young writing career that includes successful non-fiction: When Worlds Collide (B&H Pub.), he returns to his first love of imaginative fiction with his debut trilogy: The Lost City Chronicles (Russell Media). He currently resides in Atlanta, Georgia with his lovely wife, Sarah.
---