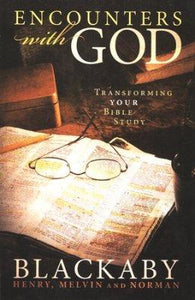 Encounters with God: Transforming Your Bible Study (Paperback)
Encounters with God: Transforming Your Bible Study (Paperback)
Authors: Henry T. Blackaby, Norman Blackaby, & Melvin Blackaby
Publisher: Thomas Nelson Publishers
ISBN (10): 1418528048
ISBN (13): 9781418528041
BMI Stock Number: BMI0227
Studying the Bible is not just the pursuit of biblical and theological head knowledge. It is a journey for your soul into the heart of God.
Renowned Bible teacher Henry Blackaby, and his sons Norman and Mel, believe that Bible study is far more than a study method--it is a way of life. The Blackabys walk beside you as you read the Scriptures so that you can encounter God. You'll discover how your encounters can change your everyday life. They will train you how to study effectively on your own by mentoring you through short passages from the seven types of literature in the Bible.
Encounter God and make life changes because of it. Not just head knowledge, but heart change.
How to Encounter God in the Scriptures
Hear His Voice through Prayer
Read His Words
Understand His Words
Apply His Words
Adjust Your Life
---