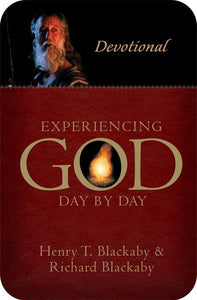 Experiencing God Day-By-Day: A Devotional (ebook)
Experiencing God Day-By-Day: A Devotional (ebook) (ePub Format)
Choose the format you need from the drop-down list.
Authors: Henry T. Blackaby & Richard Blackaby
Publisher: B&H Publishing Group
ISBN (10): 0805454667
ISBN(13): 9780805454666
BMI Stock Number: BMI5034

Brimming with insight and seasoned with grace, Experiencing God Day By Day by Henry & Richard Blackaby is a 365-day devotional reader designed to kickstart a daily routine by focusing the mind on the divine presence in each life. Whether selected as a thoughtful gift or as a personal resource, this book will inspire great changes while sustaining the essential habit of turning to God on a daily basis.
Gold Medallion Award winner Experiencing God Day-By-Day is based on Henry Blackaby's multi-million selling Experiencing God book and Bible study.
---