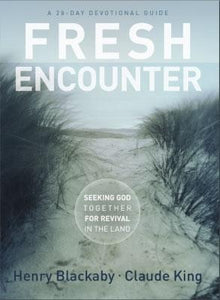 Fresh Encounter: Seeking God Together for Revival in the Land
Fresh Encounter: Seeking God Together for Revival in the Land
Authors: Henry T. Blackaby & Claude King
Publisher: LifeWay Church Resources
ISBN (10): 1415835349
ISBN (13): 9781415835340
BMI Stock Number: BMI0102
God is on mission to redeem a lost world, but when His people depart from Him, that work is hindered.
This 28-day devotional guide helps you understand from Scripture and history how God works to revive His people and use them to change their world. Study it individually and in small groups or churchwide to understand and respond to God's requirements for genuine revival. Suggestions for 4 small-group sessions are included.
Fresh Encounter is designed for use in churches in the 4 weeks leading up to the National Day of Prayer and for other times of prayer emphasis.
---