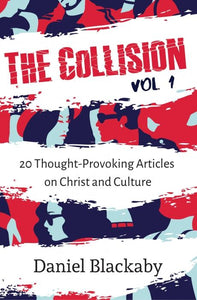 The Collision Vol. 1: 20 Thought-Provoking Articles on Christ and Culture (Paperback)
The Collision Vol. 1: 20 Thought-Provoking Articles on Christ and Culture (Paperback)
Author: Daniel Blackaby
Publisher: Blackaby Ministries International

ISBN-13: 978-1-61291-150-2
Countless cultural conversations are happening all around you. Are you aware of them?
More importantly, are you actively engaged and contributing to them?
Now, more than ever, Christians need to listen to these conversations and let their voices be heard. When we do, a collision between Christ and culture is inevitable.
The only question is...are you ready for the collision?
With 15 articles and 5 pop-culture reviews, The Collision Vol. 1 demonstrates how Christians can navigate today's increasingly digital and media-driven culture, engage with the crucial conversations happening all around us, and collide head-on with the world for Christ.
Articles Include:
--"Can Christians Watch R-Rated Movies?"
--"Do Violent Movies Make Us Violent People?"
--When Celebrities Preach: A Christian Response
--Why Christians Are Debating People Into Hell
--Why Creative Young Adults Are Abandoning the Church (and What We Can Do About It)
---