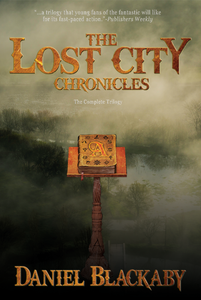 The Lost City Chronicles: The Complete Trilogy
The Lost City Chronicles: The Complete Trilogy (Paperback)
Author: Daniel Blackaby
Publisher: Elevate Fiction
ISBN (10): 194342523X
ISBN (13): 978-1943425235
BMI Stock Number: BMI0290
For the first time, The Lost City Chronicles will be released in a single-book trilogy.
The Most Ordinary of Boys… The Most Extraordinary of Books… When the two collide, a destiny is set into motion which cannot be undone. Without warning, a secretive cult emerges ready to kill, and a horrifying Beast appears in the dead of night – craving to devour the Keeper of the Book. Suddenly, Cody Clemenson is forced to flee with his best friend Jade. Their journey will lead them to mystical locations and thrust them into uncharted lands, where an ancient feud between two long-lost cities is teetering on the brink of war.
Author

Grandson of Experiencing God author, Henry Blackaby, and son of speaker and author, Richard Blackaby, Daniel Blackaby is the emerging voice in the Blackaby publishing tradition. Daniel's greatest passion is exploring the magical world of language. As a child, when not crafting elaborate fantasy tales, he could be found with his nose buried in a great book. Now, with a young writing career that includes successful non-fiction: When Worlds Collide (B&H Pub.), he returns to his first love of imaginative fiction with his debut trilogy: The Lost City Chronicles (Elevate Fiction). He currently resides in Georgia with his beautiful wife Sarah and twin boys, Logan and Emerson.
---