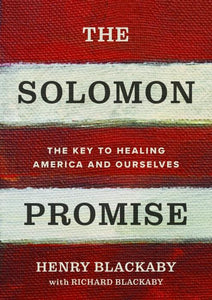 The Solomon Promise: The Key to Healing America and Ourselves (Hardback)
The Solomon Promise: The Key to Healing America and Ourselves (Hardback) 
Authors: Henry T. Blackaby
Authors: Richard Blackaby
Publisher: Thomas Nelson
ISBN (10): 0785249362
ISBN (13): 9780785249368
BMI Stock Number: BMI0016
"The salvation of the nation has little to do with Washington or Hollywood--it has to do with the people of God. . . . It is the people of God who can truly shape a nation." --Henry Blackaby
"If there is anything that characterizes God's people in America today, it is the loss of the fear of God. If America depended on your prayer life, would there be revival?" --Henry Blackaby
Today, we have a low view of God. The church has emasculated God in a futile effort to make Him more palatable and politically correct, and, in so doing, we have grossly distorted Him.
With unease on the rise and division causing a rift in the nation, Blackaby reminds believers that "while leaders and governments can influence a nation, there is no group of people who can determine the coming years of a nation like God's people."
God's people keep praying for God to transform Washington, Hollywood, or Wall Street, but revival always begins with God's people themselves. If there ever was a time America needed revival, it is now. Currently, 70% of churches have plateaued or are in decline. More than two-thirds of young people who grew up attending church are leaving the faith before they graduate from college. More than 4,000 churches in America close their doors every year.
In The Solomon Promise, bestselling author Henry Blackaby shares the path to a revival of faith in America and the restoration of holiness to God's people.
How will you respond? Revival waits on the holiness of His people. This book provides the path that will lead us back.
The Solomon Promise is an excellent book for all Christians eager to deepen their spiritual lives and experience the healing of America and themselves.
---