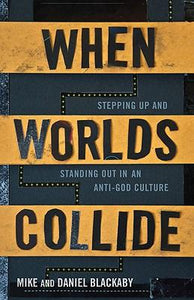 When Worlds Collide: Stepping Up and Standing Out in an Anti-God Culture (Paperback)
When Worlds Collide: Stepping Up and Standing Out in an Anti-God Culture (Paperback)
Authors:
Mike and Daniel Blackaby
Publisher: Broadman & Holman Books
ISBN (10): 0805464816
ISBN (13): 9780805464818
BMI Stock Number: BMI0256
The media-driven world places enormous pressure on people to conform to its secular point of view—and young people are especially susceptible to this ploy. Writing to a student audience, authors Mike and Daniel Blackaby (the grandsons of Experiencing God author Henry Blackaby) explain how Christians typically respond to this pressure in one of three ways, assigning names for each group: ""Cave-Ins"" are Christians who accept the world's values and compromise their faith or abandon it altogether. ""Cave-Dwellers"" are believers who fear the world and seek to insulate themselves from it and its influence as much as possible. ""Colliders"" are the Christians who remain true to their faith yet effectively engage the world and are used by God to change peoples' lives. When Worlds Collide is the Blackabys' case for becoming a Collider. In chapters packed with story-based devotional thoughts, plenty of humor, and easy steps for application, they prove it's possible to live an authentic Christian life that meets the world head-on without spiritual compromise.
Website:
Reviews:
http://mattdabbs.wordpress.com/2011/07/25/book-giveaway-when-worlds-collide-by-mike-and-daniel-blackaby/
http://pastormattblog.com/2011/07/16/weekend-book-review-when-worlds-collide/
---